The concept of a wholesaler in business is well known, but to the average consumer, it is a concept that doesn't seem congruent with their version of how the diamond industry operates. In the diamond industry, polished diamond wholesalers account for approximately 30% of the independent businesses in the diamond value chain. The majority of diamond jewellery businesses are independent & family owned, and at the wholesale level, family ownership accounts for almost 90% of all wholesale diamond companies.
---
Wholesaler | noun | whole·sal·er \ˈhōl-ˌsā-lər\
A wholesaler is an intermediary entity in the distribution channel that buys in bulk and sells to resellers rather than to consumers. A merchant middleman who sells chiefly to retailers, other merchants, or industrial, institutional, and commercial users mainly for resale or business use
The Diamond Value Chain
To understand what a wholesaler's role is in the diamond industry, let's take a look at the overall landscape, specifically, the value chain of the diamond industry (see fig 1.0).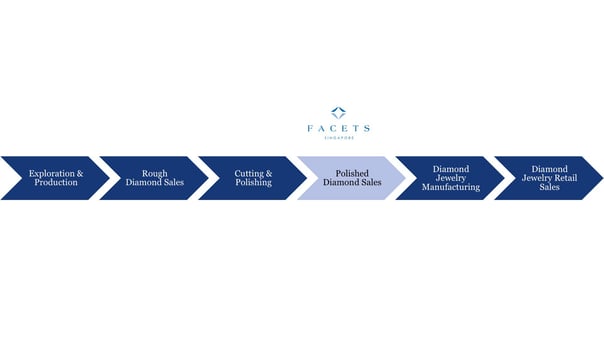 Fig 1.0: The Diamond Value Chain: Facets Singapore represents the Polished Diamond Sales sector
In brief, a polished wholesaler such as ourselves (Facets Singapore), buys diamonds that are cut and polished, then sells these diamonds to jewellery manufacturers and retailers or local, independent jewellery stores who may not have the capacity to finance large stocks of diamond inventory. Thus, the role of a wholesaler here is no different than a wholesaler of auto-mobile parts, textiles or coconuts. Instead of units in pieces, tonnes or kilograms, the units used here are carats(cts). The needs vary by region, by market and by jewellery type: high-end vs. mass market, but in general, the concept of breaking bulk is exactly the same.
A wholesalers activities primarily focus around breaking bulk, but the real value comes in not only breaking the bulk, but assorting the diamonds in various 'qualities' derived from the 4C's. Taking a parcel of 0.10 ct diamonds, one can yield higher profits from separating the top quality diamonds from the middle to lower end. Eg: a 100 carat parcel can be separated into three separate 30 carat parcels with three different prices. Further still, a watch manufacturer may require very specific sizes, with millimetre precision to fit their watch bezels; while a high-end jewellery manufacturer may only want the best cut diamonds for their masterpieces. Therein lies the value add.
Other activities include facilitating the logistics of exporting and importing diamonds and exploring new opportunities for retail clients who may not have the network nor negotiating power to access the increasingly global network.
A Global Network
For centuries Antwerp was the undisputed center of polished-diamond sales. While that city remains a leading destination for the diamond trade, the market has dispersed. More than half of sales today take place in the central and regional offices of diamond cutters and polishers in places like Mumbai, Hong Kong & New York. Today, approximately 80 % of all loose polished diamonds find themselves traded in the Mumbai based Bharat Diamond Bourse and in Surat also in India, a testament to the increasing skill, cost efficiencies and expertise of Indian diamond cutters.
Although travel is still a large part of a diamond dealer's life, with the increase in connectivity and technology, dealers now have options like 360 degree photos, videos & remote in-depth analysis of the stones they're buying to make educated decisions on what stones to source without the need to travel. These same technologies also make it easier for an end-user to source a diamond for themselves, which is part of the added pressures wholesalers face today. The irony is, it has never been easier to source a diamond, yet it has also never been harder to sell one.
Growing challenges for the middle-man
The concept of the middle-man being cut is nothing new. We have seen the repugnant reaction by many industries to an increase in middle market players, and there comes a point where the middle man becomes extinct and the players on both ends of the value chain benefit.
Though this is increasingly the case in the diamond industry, few factors prevent it from rapidly deteriorating the same way the consumer electronics market did, for example. Put simply, diamond wholesalers provide value in the very fact that the learning curve to master and gain expertise in a product like diamonds is very steep. Couple with this with an industry full of family run businesses bound closely with trust and built on relationships, even surmounting pressure from online retailers is not enough to fully eliminate the mid-stream wholesalers.
This doesn't mean that the need for a middle-man is paramount, especially when you consider that polished-diamond traders' financing needs are increasingly unhealthy. Not only must they finance their inventories, they have a growing need to finance accounts receivable generated by transactions with retailers and jewelry manufacturers. According to industry participants, these debts are taking longer to collect than in the past, meaning a lot of middle-men have gone out of business in the last few years. Jewelry manufacturers, too, have a growing need for receivables financing. Their receivables collection times have also lengthened, a reaction of the increased bargaining power of large retail chains, retailers who have since sourced directly from diamond manufacturers and in some well known instances, vertically integrated their business functions.
Wholesalers generally do not deal in rough diamonds, but with increasing pressure to provide more value to their retail and jewellery manufacturing clients, some wholesalers have moved up the value chain to source rough for jewellery manufacturers who themselves moved up to diamond cutting and polishing. The dedication to one area of expertise is slowly losing its appeal, and the trend has spread across the value chain quite significantly.
How to remain relevant
Some vertical integration is necessary for not only the retailers but increasingly for the polished diamond wholesaler too. In a market with increased connectivity, price and product transparency, the wholesalers' advantages are evermore narrow. Smart wholesalers have either moved up or down the value chain through partnerships, mergers or diversifying their offering. By opening their doors to end-users, wholesalers are following the buzz that consumers prefer the idea of bespoke jewellery, an experience where they are directly involved in the diamond selection and creation of their bespoke jewellery. After-all, diamond purchases are heavily emotionally driven, and who better to engage with than a dealer who has dedicated his life to understanding the art and science of buying a diamond.