Taking your relationship to that next step is a huge milestone so of course we understand that you want to get it just right. A lot of the time, first time folks don't really know how to make that next move, so we've provided a few tips to prepare you for one of the biggest emotive purchases you're probably going to make!
1. Ask Permission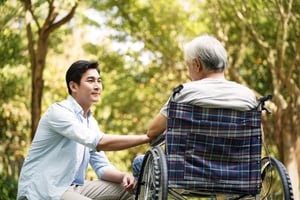 You may not plan to go down this traditional route of asking for your partner's hand in marriage but if you do, it can be a very daunting and uncomfortable process that has to be done. Your partner's parents/guardians will be very grateful for candor though! Our advice is to prepare a few nice talking points about your other-half and your relationship and just speak from the heart. Who knows, it could turn out to be a great conversation with their family.
2. Budget
Buying a diamond engagement ring is no doubt a large expense and so the biggest question on your mind is probably, "how much do I need to spend?"
"At least two months salary" is the infamous rule from the 80s but all you should really consider is how much you're able to fork out based on your personal finances. If the amount spent turns out to be less than what you budgeted for or expected, great! The extra amount can always be spent on customizing wedding bands later, for instance. The best thing to do in a situation like this is ignore all the 'peer pressure' around you and spend within your means — it's your money and your moment.
3. Understand the 4Cs
Just like learning your ABCs is essential in order to read and write, reading up on the 4Cs is essential in order to understand diamonds. Diamonds are graded according to the 4Cs — Cut, Colour, Clarity and Carat (weight). Although you should consider all of these significant elements in your diamond buying, emphasis should be placed on the Cut grade as this is the most important factor impacting the brilliance of a diamond, which is after all what you'll be paying for. Don't confuse Cut with shape but understand it as how well a diamond will sparkle when light hits it. We've outlined the 4C's in a more practical guide below.
See also: Our Comprehensive Guide to Diamond Engagement Rings
4. Know What Your Partner Wants and Their Style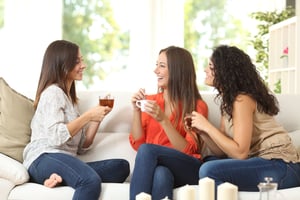 This is the one aspect you may feel lost about! Consider your partner's tastes and style — classic or edgy, safe or adventurous, likes to accessorize or isn't much of a jewellery wearer? If your partner hasn't already dropped a few hints about what they like or dislike or shown you images of what they want and your plan is to keep the proposal a surprise, then it's time to get the friends or close family members involved. Ask them to see if they can 'research' and get a few feelers of what your partner wants or better yet, ask one of them whom you're comfortable with to come do the shopping with you. It's always good to have a second opinion if you're unsure.
This is often something that is not considered until it comes down to finalising the ring design and can be a confusing choice, but to make it easier, all you need to know is what colour or type of metal your partner wears daily. Is their jewellery usually in yellow gold? Have they ever mentioned that they would like a rose gold band for a change? We always recommend setting diamonds in a durable non-tarnishing precious metal such as 18K gold (yellow, white or rose — white being the most classic option) or platinum.
Both white gold and platinum take on a similar looking colour in their final appearances — bright white. However, white gold derives its colour from rhodium, which is a lustrous durable precious metal used for plating.
In its raw form, white gold is typically alloyed with silver, nickel or palladium. The resulting colour of the metal is a dullish gray with a tinge of yellow. Hence, there is a need for plating it with rhodium to give it that brilliant white look.
On the other hand, platinum being naturally white doesn't require any plating. With regular wear, the metal's sheen can fade and it takes on a dull patina. If you aren't comfortable with this dull worn look, we advise to bring the piece of jewellery back for occasional polishing and buffing to maintain and bring out its luster.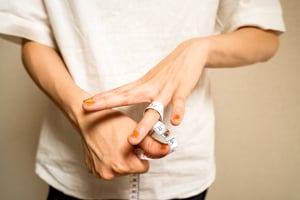 Save yourself the embarrassment during your proposal and don't get the ring size wrong! This is one of the biggest issue our clients struggle with, but lucky for you, we have prepared a few 'sneaky' ways to figure out your partner's ring size if you don't already know it.
Get help figuring out their ring size with our handy guide.
Do you need guidance from a trusted diamond dealer? Visit us and let's take this conversation further.